2021-08-01

2021-08-31
Przed nami ostatni miesiąc wakacji. Pakuj plecak i ruszaj w Lubelskie. Zachwyć się nałęczowskim, kolorowym niebem wypełnionym balonami, zasmakuj w gryczakach w Janowie Lubelskim, zanurz się w filmowym świecie w Kazimierzu i Janowcu, poczuj atmosferę dawnych jarmarków w Lublinie i podziwiaj piękno Roztocza z perspektywy rowerowego siodełka. Sierpień w Lubelskiem to czas kultowych festiwali i uwielbianych wydarzeń. Do tego dodajmy jeszcze Tour de Pologne, które ponownie zawita na lubelskie drogi i mamy miesiąc idealny. Sprawdź co, gdzie i kiedy się wydarzy i do zobacz ...
2021-06-01

2021-09-15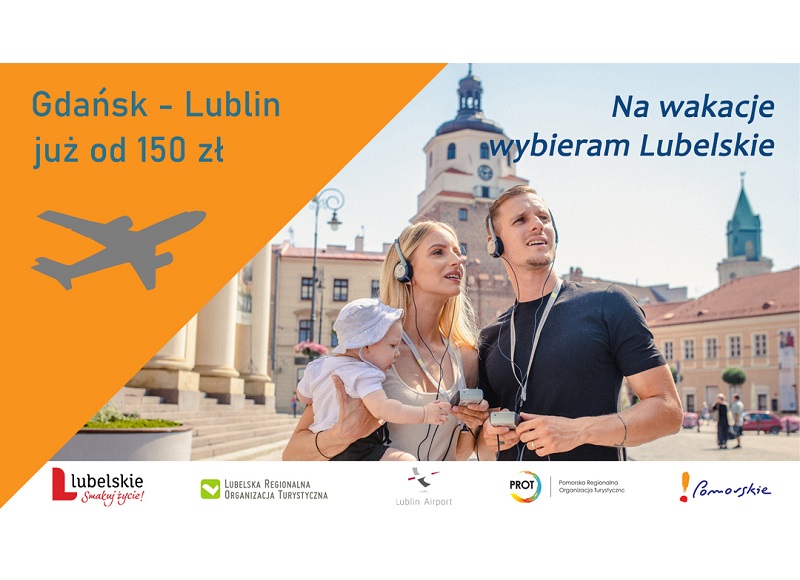 Od czerwca br. uruchomione zostało bezpośrednie połączenie lotnicze na trasie Lublin-Gdańsk-Lublin, realizowane przez Polskie Linie Lotnicze LOT. Podróż z Portu Lotniczego Gdańsk im. Lecha Wałęsy do Portu Lotniczego Lublin i trwa jedynie 70 min. Loty odbywają się dwa razy w tygodniu – we wtorki oraz soboty przez cały sezon letni, aż do połowy września. Zachęcamy do zapoznania się z rozkładem lotów: www.airport.lublin.pl ...
2021-07-05

2021-08-13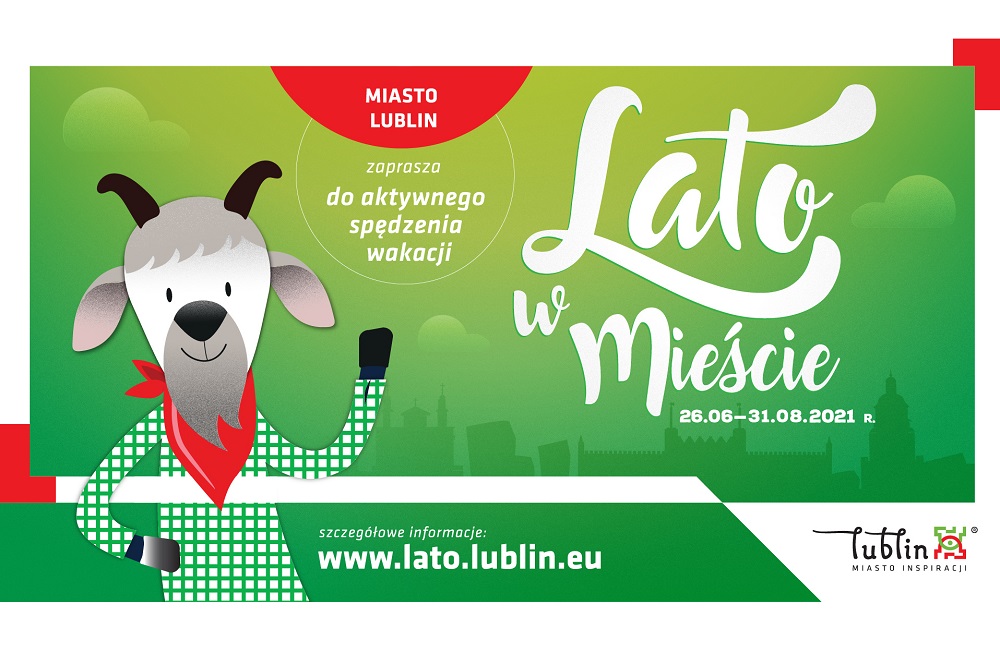 Lato w mieście? Lublin od podszewki to propozycja Lubelska Regionalna Organizacja Turystyczna dla najmłodszych na kreatywne spędzenie czasu w wakacje. W myśl powiedzenia "cudze chwalicie, swego nie znacie" uczestnicy warsztatów będą odkrywali ciekawe miejsca w wybranych dzielnicach Lublina. Pod okiem doświadczonych animatorów kultury i przewodników miejskich, dzieci dowiedzą się jak docierać do interesujących informacji i miejsc. Nauczą się o nich pisać, a także je rysować i fotografować. Pięciodniowe warsztaty pozwolą na stworzenie swoistego przewodnika po dzielni ...
2021-07-01

2021-07-31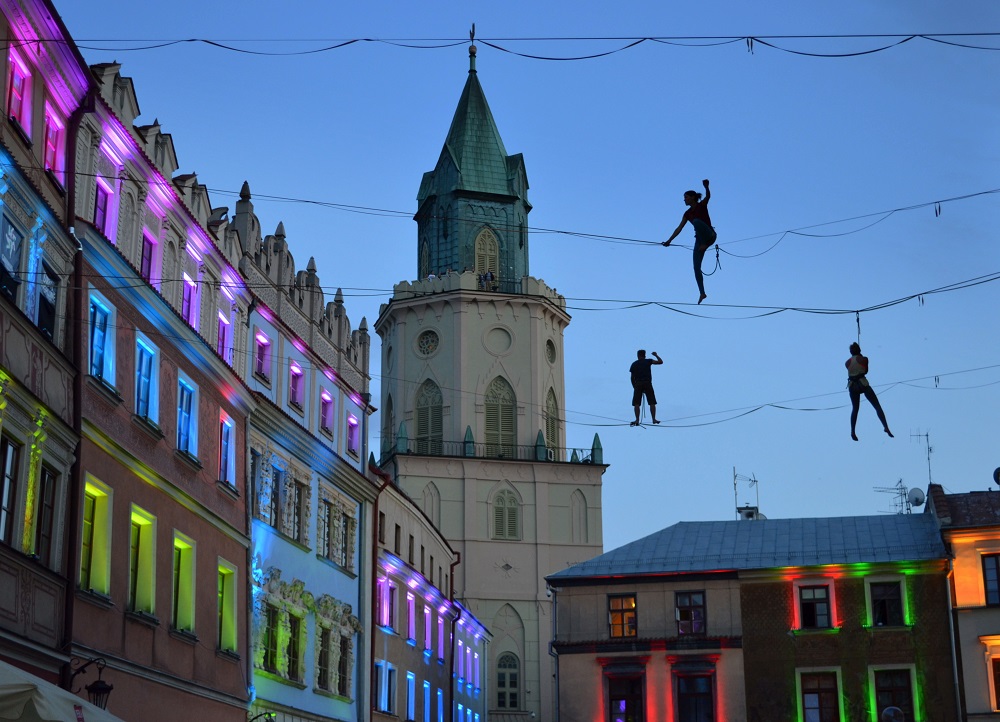 Lubelskie i wakacje to połączenie idealne. Czekają na Ciebie kultowe wydarzenia: Carnaval Sztukmistrzów, Noc Kultury, Zamojskie Lato Teatralne, Festiwal Filmu i Sztuki Dwa Brzegi oraz Kazimiernikejszyn w Kazimierzu Dolnym, Ogólnopolskie Warsztaty i Targi Sztuki Kowalskiej w Wojciechowie, Lublin Jazz Festiwal, Międzynarodowe Spotkania Folklorystyczne im. Ignacego Wachowiaka, sacery z przewodnikiem po Lublinie, Kazimierzu Dolnym i Zamościu - długo by wymieniać, po prostu sprawdź co, gdzie i kiedy się wydarzy i baw się dobrze! ...
2021-06-01

2021-06-30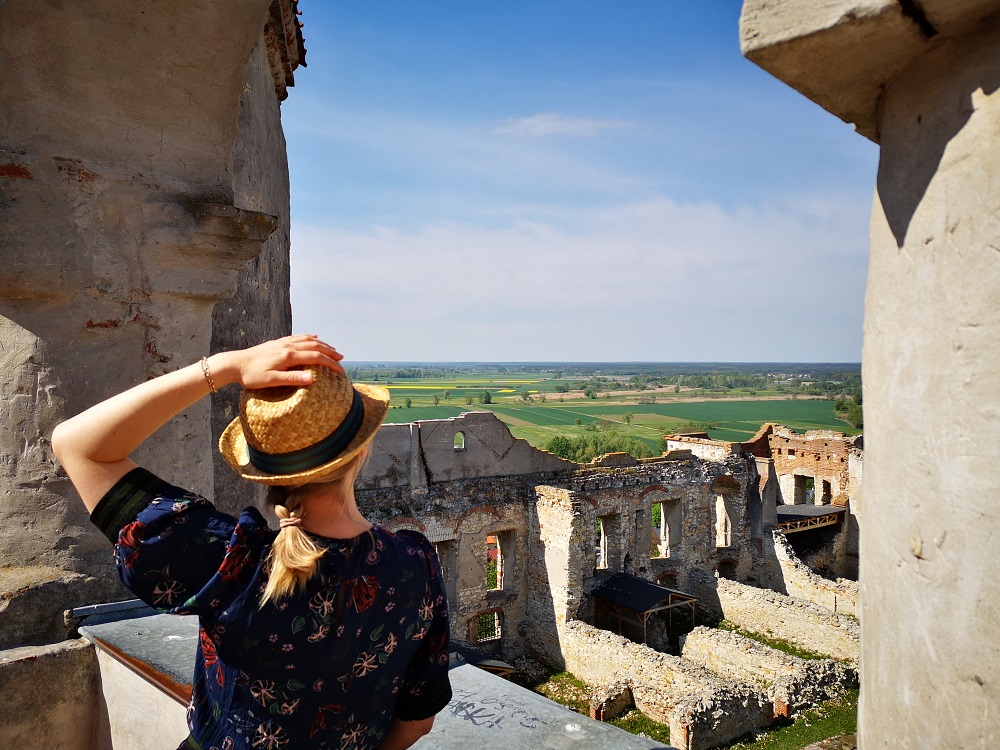 Od magicznej Nocy Kultury w Lublinie, przez wyjątkowy Festiwal Inne Brzmienia do pasjonujących spacerów z przewodnikiem po Lublinie, Zamościu i Kazimierzu Dolnym. Jeżeli wolisz spędzać czas aktywnie, skorzystaj z propozycji spływów kajakowych po rzece Wieprz i imprez rowerowych w Puławach, Białej Podlaskiej, Zamościu i Roztoczu. Sprawdź co wydarzy się w czerwcu w województwie lubelskim! [artykuł aktualizowany] ...
2021-06-10

2021-09-02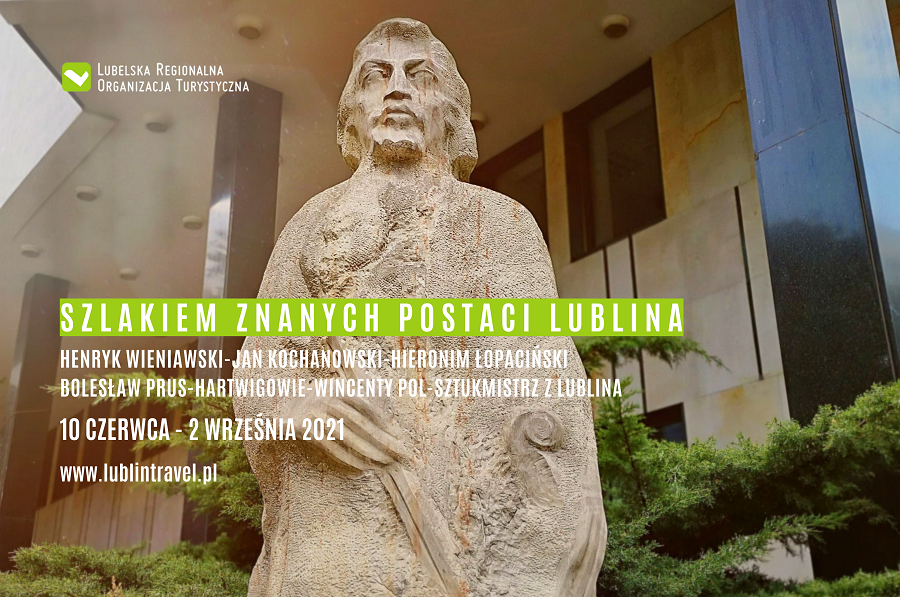 Wielowiekowa historia Lublina została zapisana w zbiorowej pamięci dzięki ludziom, którzy poprzez twórczość wnieśli wyjątkową wartość w losy miasta. Lubelska Regionalna Organizacja Turystyczna zaprasza na cykl prezentacji i spacerów pt. Szlakiem znanych postaci Lublina, które poprowadzi Pani Irena Kowalczyk, przewodniczka oraz autorka wielu przewodników na temat Koziego Grodu. ...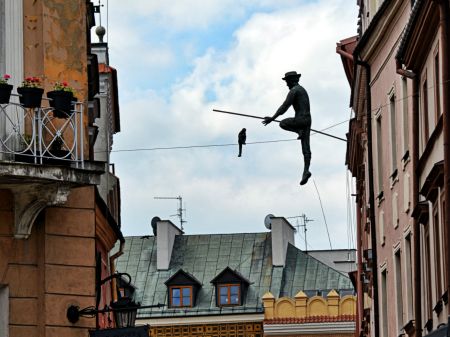 3 czerwca 2021 wypada Uroczystość Najświętszego Ciała i Krwi Chrystusa. W tym dniu zapraszamy do odwiedzin w Lubelskim Ośrodku Informacji Turystycznej i Kulturalnej w godzinach 12.00-18.00. Oferujemy bogaty wybór pamiątek oraz możliwość skorzystania z audioprzewodników, wypożyczalni rowerów czy przechowalni bagażu. Co jeszcze będzie dostępne dla zwiedzających w Lublinie i regionie tego dnia? Sprawdziliśmy! ...
2021-05-21

2021-05-23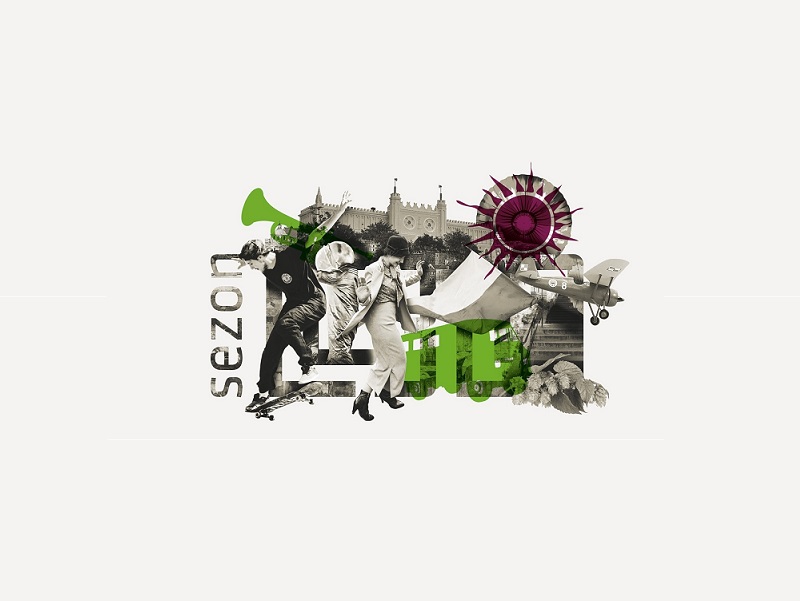 It's time for the 10th edition of Season Lublin that will take place between 21 and 23 of May 2021. This year we are celebrating a couple of anniversaries important for the city's history: the first free elections in Poland, the launch of the Vetter's family brewery, production of the Lublin-51, a cult car by the FSC Lublin Automotive Factory, and production of the first airplane in the Plage and Laśkiewicz factory. We will also celebrate the hundredth birth anniversary of the Lublin poet, Julia Hartwig. Propositions prepared within Season Lublin will introducece these events to the tourists ...
2021-05-15

2021-05-15
Nie spać, zwiedzać! 15 maja popularne powiedzenie nabierze dosłownego znaczenia. Noc Muzeów w Lublinie zapowiada się naprawdę ekscytująco. Sprawdź ofertę muzeów i ruszaj w nocną przygodę pełną pozytywnych wrażeń! ...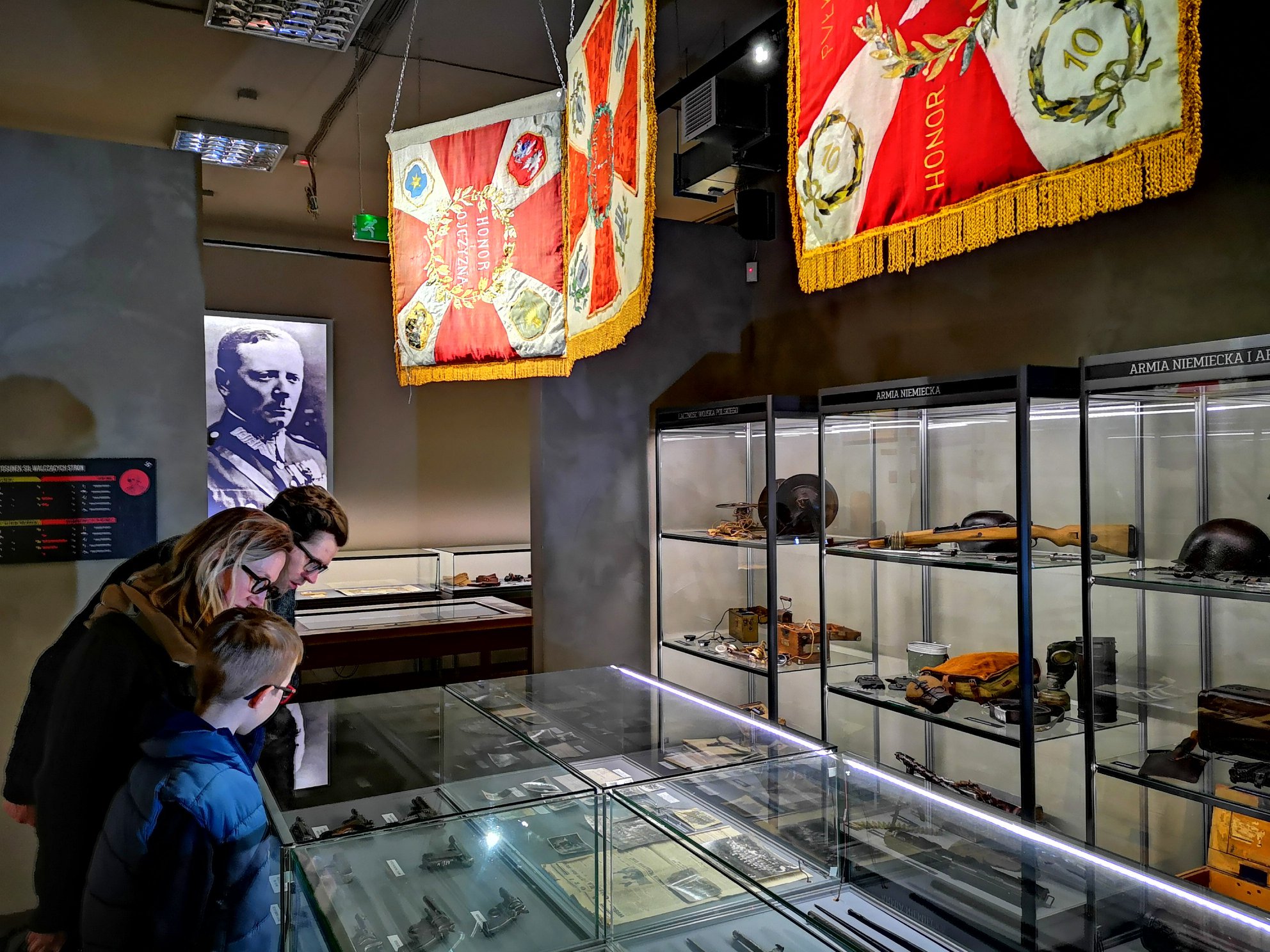 Od 4 maja 2021 r. muzea oraz galerie sztuki ponownie zapraszają w swoje progi. Już teraz możecie zwiedzić m.in. Muzeum Wsi Lubelskiej, Muzeum Zamoyskich w Kozłówce, Muzeum Sił Powietrznych w Dęblinie, Muzeum Czartoryskich w Puławach czy Muzeum Nadwiślańskie w Kazimierzu Dolnym. ...